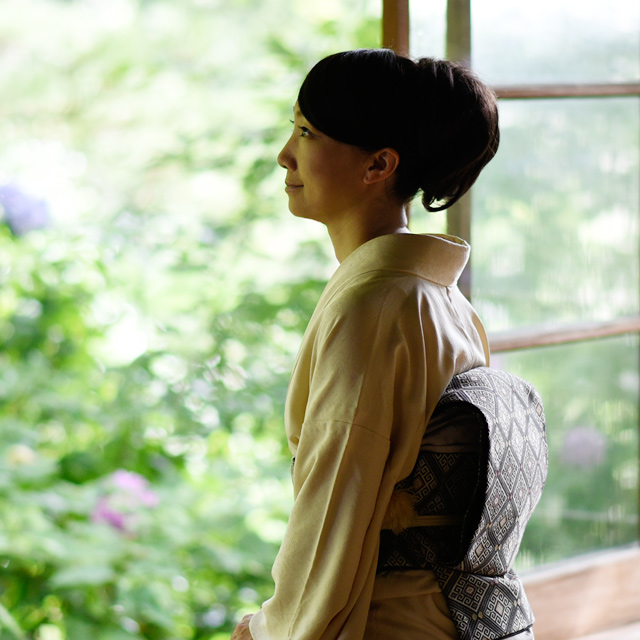 Chieko Hirota
Greetings
Surrounded by water, Japan is a small country which has many seasonal customs and where a variety of nature worship practices can be seen.
The rituals of Shōgatsu (Japanese New Year), Setsu-bun (end of winter in the lunar calendar), and Momo-no-sekku (the Peach Festival) which are introduced in my videos are just a few of them.
Whichever seasonal customs and festivals you look at, each has roughly a standardized "form". The style of these seasonal customs and festivals can take various forms dependent on regional differences, respective households and the period which the plants and materials are used.
When one looks for something common among these many forms, one finds that; "Paying attention and respecting things that are not visible or known", "Having a sense of familiarity and empathy towards nature and fellow man" and "Having a reverence and awe for Mother Nature", one can see a worldview that can be created by living in harmony with nature through fully exercising the five senses and the sensitivity that people are born with.
Not only in Japan but in countries all over the world, people pause when the seasons change as our planet earth moves through space or at milestones of farming or hunting, people get to rest their bodies and minds, feel the invisible power that is given off by the stars, and then by offering prayers and gratitude, they gain the power to move forward. This is seen not only in Japan but in countries and regions all over the world, people have a history of sustaining communities and releasing the stresses of daily physical hard work by making offerings and special meals which are prepared by people working together using their hands and bodies, offering gratitude and prayer, eating and drinking together and occasionally gathering together in large crowds to have festivals.
Nature is full of abundant gifts that sustains our daily lives, but at the same time has an invisible power that sometimes mercilessly robs us of our daily life and lives in an instant.
Coincidently, now we humans are forced to "stay home" by a small invisible virus called "COVID-19", compelling people to stop in their tracks, reconsider how they have lived and done things up to this point, people have now been given time to question what is really important and precious in their lives.
The wish I have for my books and videos is that rather than them merely being viewed as "exotic Japanese customs" and curious things from a distant land, is that I hope they give people an opportunity to realize that everybody has a common sensitivity no matter where they live in the world.
By pausing as the seasons change and feeling something while gazing at the nature and plants around you, respecting something which is small and beautiful that gives you power, or holding those flowering plants in your hands, and at times by giving one's own distinct form to those flowering plants, it provides the time for "appreciation and prayer for something which cannot be seen", something which people should have in common.
I would be delighted if my videos and books inspire you to enjoy the profound world lying in everyone's daily life.
Profile
Chieko Hirota
Chieko Hirota holds "Seasonal Shitsurai Workshops," in which she teaches about the origins of Japanese events and customary practices. Shitsurai means seasonal decoration or the setting up of ceremonial spaces. The workshops include seasonal training that attempts to adapt shitsurai to modern lifestyles and society. Students think about the fundamental ideas and essence of the events and practices based on sources and the classics. She teaches those classes at her own traditional Japanese-style-house studio, or at companies or stores as a guest instructor, and she also teaches online (in Japanese only).
On her YouTube channel, she has released original videos that introduce Japanese seasonal customs, events and festivals, as well as their beauty.
As a writer and illustrator, she writes for newspapers and magazines, and she has published over 25 books, some of which have been translated to English, Chinese, Thai and other languages.
Videos
Here are my videos that express, in the form of shitsurai, traditional seasonal customs and events that Japanese people have long performed when the seasons changed. (Shitsurai refers to seasonal decorations or the setting up of ceremonial spaces.)
I believe in your country, too, there are customs and traditions for warding off evil when the seasons change or for using familiar plants to make wreaths and decorations to celebrate the arrival of a new season. Perhaps new foreign cultures or religions have changed ancient customs or commercialized them.
I would be delighted if you watched my videos and thought, "I want to try this too!" However, it might be challenging to try to do the same things in a country far from Japan. Instead of trying to do the same things, I hope these videos will give you some quiet time to remember what your ancestors did while thinking about their ancestors and the power of nature and to make those thoughts tangible in your own way. It would be my pleasure if my videos inspired you to have such moments.
1月 January "Shou-gatsu" 正月
2月 February "Setsu-bun" 節分
3月 March "Momo no Sekku" 桃の節句